I
think now that I am at Hogwarts that the House of Ravenclaw has sent over their spys...just look at them all congregating around my dorm...I'm not sure but they remind me of that movie "The Birds" don't they?
Remember the one by Alfred Hitchcock? It was a terror in its time.
When they hung around gawking and making those awful
"caw" sounds....Its a wee bit scary....
but the ones now are across the lawn from me and gathering by the dozens, see them in the trees?
Dragon Alley
and tried to adopt a pet dragon but was unable to??? Anyone know why? I did take a stoll in the park and sat on tehbench and then took a look at the stream, it was nice there...
I got my Wand today.....its a Cherry one....
"Cherry wands are not only exceptionally beautiful, but also very useful. These wands excel in Divination spells, and the bearer often has an innate talent for diving things or else a strong intuition."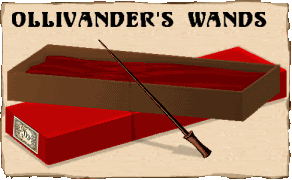 Wood type: cherry
Length: 15½ inches
Core: Dragon Heartstring