I got a Big Shot Sizzix over a year ago and have never used it??? I was kind of intimidated with it I guess but after reading all the different uses that Keep Calm and Craft On has posted about it I am now excited to experiment with it...
With the right dies you can make just about anything from flowers to bees to any shape....and you can cut cans, burlap and fabric....yippy....
Remember in the 70s when we used to Macrame'??? Ok I am dating myself...lol....but I used to love doing it, well I found a couple of my mom's old books and have decided to try it again...one thing she made that I really loved was a hanging table....she was soooo talented... :)
Check out this beautiful bag...over at Expression's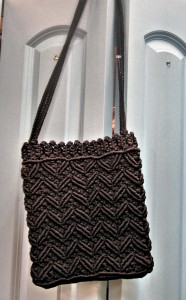 I just love this
My mom had made this one in white....don't know what happened to it but it always hung in the hallway..
Modern Craft has some great photos of Macrame' projects...
Ohhh and I love these
shown over at
Macrame' Lovers
site a great place for those who love Macrame'
This table even has a light in it... yummy
at Sheldon's Macrame'
No matter what you decide to make it is sturdy and can be so pretty...think of the possiblilities available for the patio or spare room or the living room...???
And for working in the garden I thought these crocheted gloves were too pretty....there is a FREE pattern on the site aren't these the prettiest green???
And
check out these cute hangers with an extra flower trim that makes them oh so femmine... over at MarmaladeRose
Quote of the Day:
"What type of Vitamin do you need
to take to have a good friend???"
Answer: B1