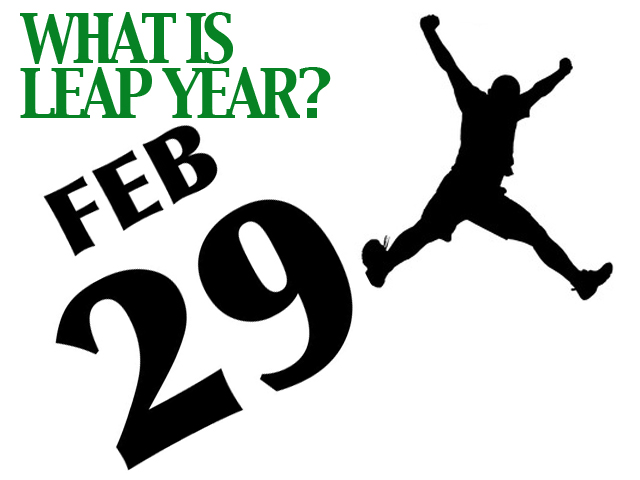 T

oday is the "extra" day of this year, "Leap Year!"! I thought I would look up some facts and funny things concerning "Leap Year."

In a nutshell, the Earth actually rotates about 365 and quarter times on its axis to complete a full year's orbit around the sun. That means that periodically -- or every four years to be precise -- an extra day is needed to help balance things out. Apparently, the end of February seemed as good a place as any. And, according to most theories, we have

Julius Caesar to thank for that. Who would of thought that someone that far back would have worried about days when saving your life was almost a daily worry???
"Leap" years
usually
take place during years divisible by four—but not always.???hmmm.... I don't remember it being different do you??? Because a solar year is a little less than 365.25 days,
consistently
adding an extra day to the calendar every four years wouldn't work. To account for this, years that are evenly
divisible
by 100 are never leap years unless they are also evenly
divisible
by 400. That means, for example, that 2000 was a leap year and 2400 will be, but 1900 was not and 2100 will not be. Crystal clear, right? well shoot I don't get to see any of that. :( too long and too early for my age!
If you're birthday is today, first "Happy birthday to youuuuuu!" Second, so you don't feel quite so alone, according to
TimeAndDate.com
, other "
leapers
"
or "
leaplings
"
include
Pope Paul III
, born in 1468; Italian composer of
William Tell
and
The Barber of Seville
,
Giocchini Rossini
, born in 1792; American singer
Dinah Shore
, born in 1916; I remember her great voice---and rapper and actor
Ja Rule
, born in 1976.Wow...what a line up.
In spite of its very practical reason for being, "Leap Year" has tickled the fancy of romantics around the world and through the ages.
If you put stock in Irish legends, "Leap Year" came about due to a deal that

St. Bridget

struck with

St. Patrick

-- which was designed to allow women to propose to men every four years.

In nearby Denmark, "Leap Year" folklore says that if a lady's marriage proposal is turned down, the would-be groom owes her 12 pairs of gloves -- hmmm that's a lot of gloves--one pair for each month to hide her embarrassment over the lack of an engagement ring.Now that makes sense can't show that awful shame!

In modern-day America, "Leap Year" fables evolved into every teenage girl's worst nightmare -- a

Sadie Hawkins dance--wow that brings back fond memories-- in which girls invite boys to spend an uncomfortable evening in a crepe-paper covered gymnasium.

Always the type to gravitate toward the happy ending, the Greeks recommend especially long engagements when a "Leap Year" approaches, believing it to be quite unlucky for couples to tie the knot during a "Leap Year." Could be???? Getting married on a "Leap Day" could set the wheels in motion for Oedipal-like[what???] tragedy. Now what does that mean??? I looked it up ewwww "sick puppy"and it means---

it

was a

mythical

Greek

K

ing

of

Thebes. He fulfilled a prophecy that said he would kill his father and marry his mother, and thus brought disaster on his city and family. This legend has been retold in many versions. Not one I want to retell of course. :( Any who...no matter what this day means to you....